Hiroshima is a place of immense historical value. Although the history associated with it is fairly recent, its nature is of a unique kind. A visit to Hiroshima is humbling for most people, a testament to the horrors of war in it's most destructive form, and the resilience of the Japanese people to recover from such unthinkable destruction. It's definitely a must-see for World War II history buffs, but even if you're a casual tourist visiting Japan, I would highly recommend a visit for one or two days. Specially a two day trip as that would allow you to visit the neighboring island of Miyajima – often described as one of the most beautiful places in Japan.
I made this two day tour of Hiroshima and Miyajima from Tokyo in October 2009 during my short tour of Japan. Although a one day tour of Hiroshima alone is possible, you will be on a very tight schedule, so I won't recommend it.
As my tour of Japan was based in Tokyo, I planned on starting early from Tokyo, taking the Shinkansen (bullet train) all the way to Hiroshima, reaching there around noon and sightseeing till evening before checking in to my hostel in Miyajimaguchi in the suburbs of Hiroshima. Miyajimaguchi being just a short ferry ride away from the island of Miyajima would leave me pretty much the whole of day 2 to tour Miyajima before heading back to Tokyo.
As you would have it, after a long day of traveling in Tokyo, which included a lot of walking around, and some late evening beers, waking up early isn't the easiest thing in the world! Still I managed to leave my hotel in Ueno around 7 AM and after a short commuter train ride, reached Tokyo station in time to get tickets for the 7:33 AM Shinkansen Hikari service to Hiroshima with a change of trains at Osaka. I used my JR Pass to pay for my Shinkansen tickets and I recovered the cost of the pass and then saved some from this round trip alone! I would therefore highly recommend getting the JR Pass if you plan on using the Shinkansen a few times during your stay – it offers great savings! More on the JR Pass in another article.
The Shinkansen system of Japan, or bullet trains as they are popularly known are definitely worth a try. To really experience them, you should avoid taking just a short trip to a neighboring town like Yokohama and take a slightly longer journey which lets you experience the extended high speed runs between cities. And although you may not get a true sensation of the speed from sitting in the train, you will know how fast you've traveled when you find yourself hundreds of kilometers away in just a couple of hours! Doing the Tokyo-Hiroshima-Tokyo journey more than fulfills your quota of Shinkansen experience. The JR Pass only lets you use the slower Hikari and Kodama services (slower as in more stops) and require you to change trains at Osaka, so if you're not using the pass, I would recommend going with the Nozomi service which goes all the way to Hiroshima and is faster (less stops). The Hikari trains are faster than the Kodama ones. so get a Hikari if you can, but don't bother waiting too long for one.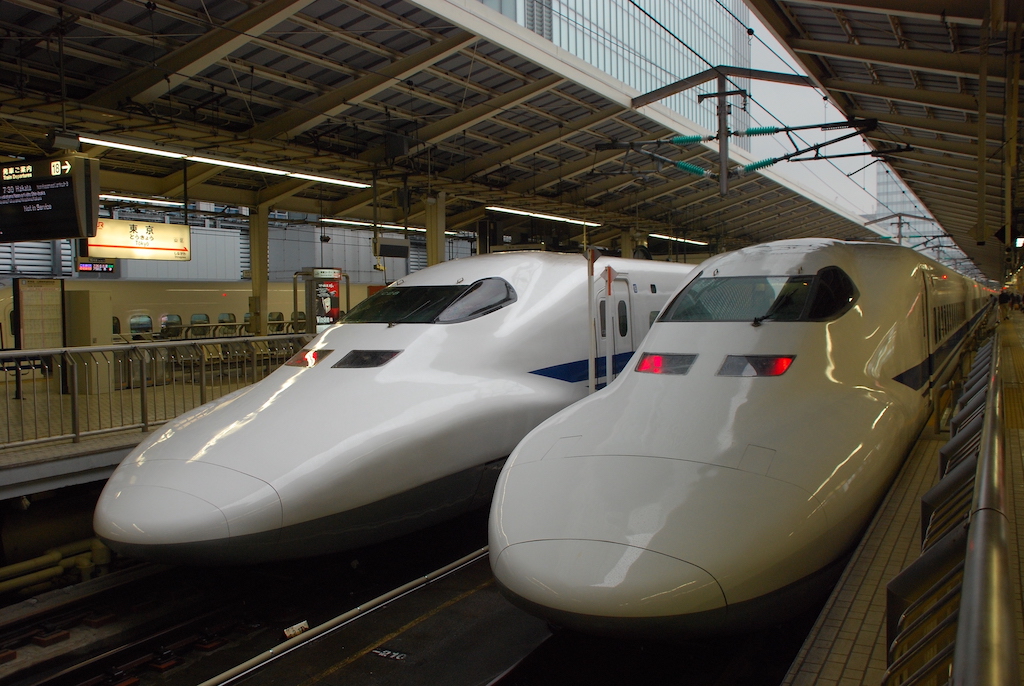 Finding the track or platform for your train in a Japanese station is quite straightforward. Shinkansen trains use dedicated tracks/platforms and these are separated from the other tracks in a station. Once you're in the Shinkansen section, find out from one of the electronic display boards which track/platform your train will be departing from and then just follow the signs to there. Note that Shinkansen trains are extremely punctual. Once the train's door closes, there is no way you can get in, even if you were standing right in front of it when it closed. I have seen this happen, so trust me! It's also a good idea to make sure your watch (or cellphone, whatever you use) is accurate to within a minute. This really helps when you're asked to decide at the reservation counter if you want a ticket on the the train that departs in 10 minutes. Making the right decision there can help you save considerable time.
Continue reading

Two-Day Hiroshima and Miyajima trip from Tokyo – Part I